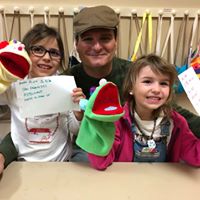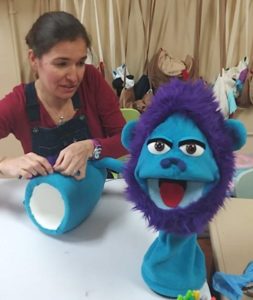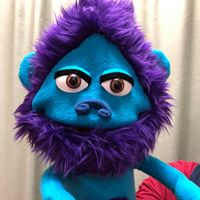 Last week, I had the opportunity to participate to a 3 days workshop to learn how to build professional puppets. Building a puppet combines several skills like drawing, construction, painting, sewing… and a lot of imagination. But benefitting from the advice from a master in the art of puppetry, as Roberto from Puppetry Plus is a real advantage and makes the whole puppet-building far more easy. I had a lot of fun, I love so much to create things from fabrics and yarns; and I met interesting people of diverse backgrounds. Thanks to Roberto, I caught the puppetry bug. I can't wait until my next workshop…
We were hosted in the cozy art studio of Elia's Creative Canopy in San Francisco. Creative Canopy is a community art studio offering a welcoming, interactive environment for people of all ages.  Elia is a talented instructor. I was amazed at her patience with the children coming to her studio to make their own sawing project. I saw a bunch of very young kids, starting from 5 years old, going back home all smiles, very proud of the rag doll or the Golden Gate cushion that they just sewed by themselves.
The last days, my daughters joined us and made their own cute little puppet. They were so happy to spend a few hours with Roberto, creating their own puppet and learning to bring them to life in front of the camera. Then, Elia tought them how to use the sawing machine and they made a small ball for their puppet. They were so proud to let me know that now they knew how to use the sawing machine… no possibility for me to escape from sawing projects now !
La semaine passée, j'ai appris à fabriquer des marionnettes ("puppet") professionnelles. Cela combine de nombreuses compétences : dessiner, construire, peindre, coudre… et pas mal d'imagination. Mais bénéficier des conseils d'un maître dans l'art des marionnettes, comme Roberto de Puppetry Plus est un avantage réel et rend le tout beaucoup plus facile. Je me suis bien amusée : c'est tellement satisfaisant de créer des choses à partir de tissus et de fils… C'était également l'occasion de faire de nouvelles rencontres enrichissantes. J'ai hâte d'être au prochain atelier !
Nous étions accueillis par Elia dans son studio de Creative Canopy à San Francisco. Creative canopy est un studio d'art communautaire qui accueille des enfants et des adultes autour de la créativité: couture,peinture, crafting… Elia est pleine de talents et de patience avec les enfants qui viennent au studio pour réaliser leur propre projet. Ils repartent chez eux tout-sourires, fière de la poupée ou du coussin qu'ils ont cousu eux-mêmes.
Le dernier jour, mes filles nous ont rejoint pour créer à leur tour leur propre marionnette toute mignonne. Elles ont été heureuses de partager quelques heures avec Roberto, pour créer leurs marionnettes et leur donner vie devant la caméra. Ensuite, Elia leur a appris à utiliser la machine à coudre : elles ont cousu une petite balle pour leurs marionnettes. Et surtout, elles étaient très fières de m'annoncer que maintenant elles savent utiliser la machine à coudre. Je ne vais plus pouvoir échapper aux après-midi couture avec mes enfants !