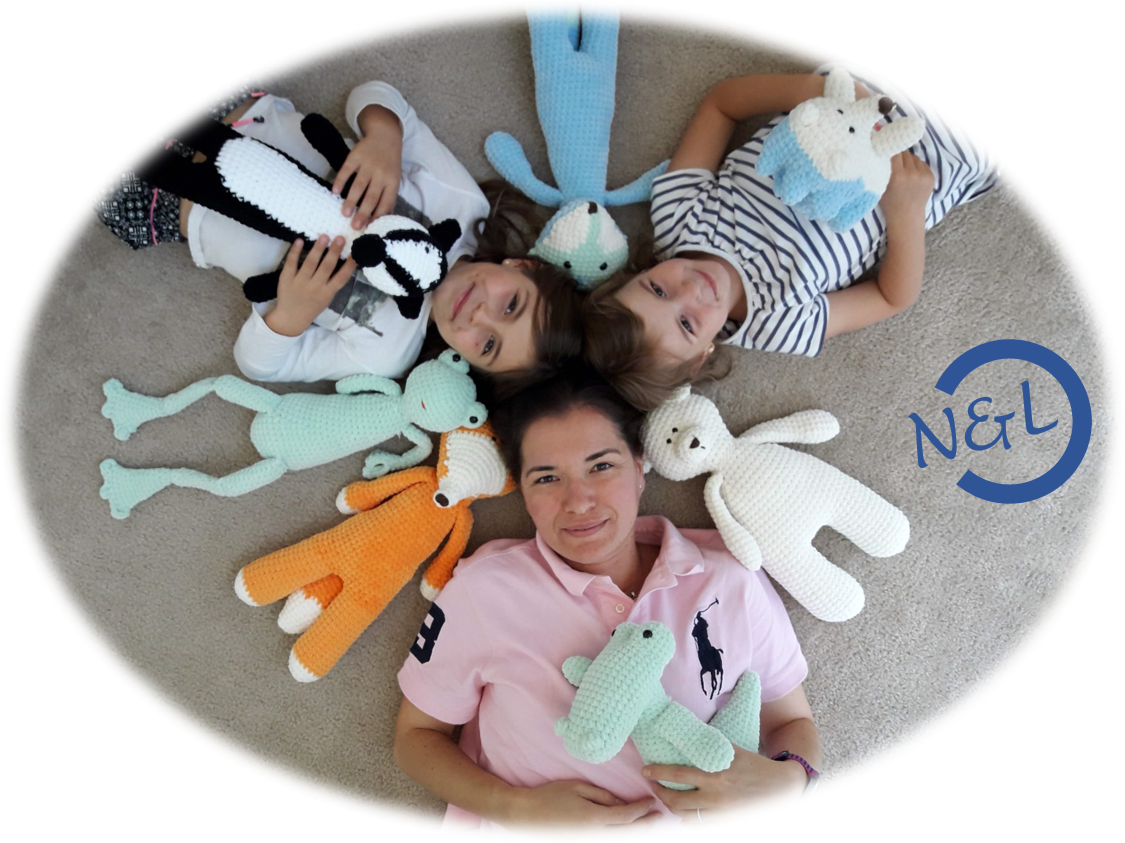 HI ! I'M VIRGINIE.
IT'S GOOD TO SEE YOU HERE !
I am serial crocheter and an enthusiastic amigurumi creator ; my home is full of yarns and amigurumis…
I learned to knit and crochet with Grandma Carmen when I was a little girl. I have always seen her sewing, still today at 92 years old ! I discovered the amigurumi world a couple of years ago: looking for hand-made and home-made personnalized gifts for the babies of my friends. I bought a lot of books and tons of yarns, and crocheted different tribes of amigurumis. Later on, when I became myself mother, I began to create my own amigurumis. I am always amazed to see a ball of yarn turn into a soft stuffed animal brought to life by children's imagination.
My biggest sources of inspiration are my two girls Nina-Céleste and Lou-Anna. They like so much to imagine new stories with their stuffed animals and often challenge me to create new ones.
I have also a passion for puppets and I will try in the next future to propose puppet patterns.
COUCOU ! JE SUIS VIRGINIE.
BIENVENUE DANS MON UNIVERS !
Je suis une crocheteuse en série et créatrice d'amigurumi… Ma maison est pleine de pelotes de laine, de livres de crochet et d'amigurumi sortis de ces livres ou fruits de mon imagination.
J'ai appris à créer à partir de la laine avec ma grand-mère Carmen, elle-même dans sa jeunesse tricoteuse dans une bonneterie : pompons, tricotin, tricot et crochet. Je l'ai toujours vue avec des aiguilles dans les mains, même encore aujourd'hui à 92 ans. J'ai découvert l'univers des amigurumi il y a quelques années : je cherchais des cadeaux originaux, faits main et faits maison pour mes amies qui les unes après les autres devenaient maman. J'ai acheté des tonnes de livres et de pelotes de laine et j'ai commencé à crocheter des amigurumis de différentes tribus. Ensuite, quand je suis moi-même devenue maman, j'ai commencé à créer mes propres tribus d'amigurumi. Je suis toujours émerveillée de voir comment une pelote de laine en un tour de main peut se transformer en une peluche qui prend vie entre les mains des plus petits… C'est magique !
Mes filles, Nina-Céleste et Lou-Anna, sont mes plus grandes sources d'inspiration. Elles adorent inventer des histoires mettant en scène leurs peluches et me challengent souvent pour en créer de nouvelles.
J'ai aussi une passion pour le monde des marionnettes… j'essayerai également de proposer quelques patrons de marionnettes.