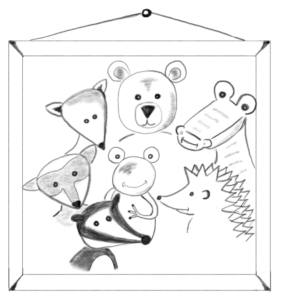 The 'Velvet Collection'
Henry the hedgehog, Felix the fox, Nina the badger, Lilly the frog, Lou the raccoon and Elliott the bear are a group of friends living in a beautiful sycamore forest of California. They met Kyle the crocodile, escaped from a zoo. They adopted him without the slightest hesitation.
They are made with a very soft velvet yarn (here Funny Uni of Gründl; crochet size 6mm). They are so soft; toddlers will love them. For the security of babies and young children, it is recommended to replace safety eyes by embroidery.
La 'Velvet Collection'
Henry le hérisson, Gaspard le renard, Nina le blaireau, Rainette la grenouille, Lou le raton laveur et Petit Ours Crème sont un groupe d'amis habitant une forêt de sycomores en Californie. Ils ont récemment rencontré Basile, un crocodile échappé d'un zoo. Ils l'ont tout de suite adopté sans la moindre hésitation.
Ils sont crochetés avec un fil velours (Funny Uni of Gründl; crochet 6mm). Ils sont très doux ; les jeunes enfants vont les adorer. Pour la sécurité des tout-petits, les yeux de sécurité peuvent être remplacés par une broderie.