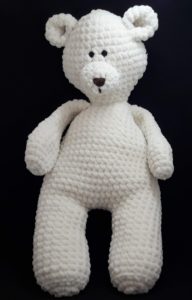 Elliott the bear
Elliott is a light beige bear leaving in San Franciso Bay area. He so cute and so sweet with his soft rounded lines: delicate ears, friendly arms and rounded belly; everything in him invites to make a cuddle. Let your imagination run wild and interpret him (her) in your favorite colour ! He's very simple to crochet, perfect for beginners.
Size: 16.5 in x 4.9 in
Difficulty *
Completion ~ 8 hours
Petit Ours Crème
Petit Ours Crème est un jeune ours beige vivant dans la région de la baie de San Francisco. Il est tout en rondeur et si mignon : ses oreilles délicates, ses bras tous doux et son petit ventre rond : tout en lui invite à faire des câlins. Laissez libre cours votre imagination et donnez vie à sa bande de copains: Petit Ours Brun, Petit Ours Noir et même Petite Ourse Grise ! Très simple à réaliser, il est parfait pour un premier projet.
Taille : 42 cm x 20 cm
Difficulté *
Réalisation : ~ 8 heures